Interactive Open Air Concept

Unlimited Instant Prints

Personalized Custom Graphic Design

Elegant & Fun Backdrops

Social Media Upload Station

Animated Gif's & Boomerang's

Green Screen Technology
Choose one of our stock backdrops at no additional charge. Custom Step & Repeat backdrops can be designed and printed at an additional cost. Our stock backdrops include a white, red, black, white tufted, and a black and white vintage damask pattern. And remember, we customize the prints for every event as well!
We have several picture layouts that work perfect for every event. The 2x6 Prints are included in every package. The 4x6's and 5x7's are an additional cost. Or, we can design a custom picture layout just for your needs! Anything you want. We can angle, overlap, or add as many picture frames as you need. And remember, we customize the design on the prints for every event so they will look AMAZING! Check out past designs on our Event Gallery.
Click on the images here for a larger view.
Triumph Photobooth's open air concept design is incredibly fun and entertaining since it allows your guests to watch and interact with one another as well as be more creative by trying different props before each shot is taken. The open air concept accommodates larger groups like bridesmaids, groomsmen, co-workers, friends, teens, classmates, families with kids…etc. We can fit 10-15 people in 1 shot!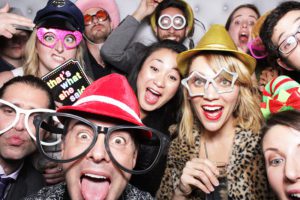 Take your guests anywhere in the world with green screen photography. You can literally have any background you can dream up! With our green screen technology your guests images can be seamlessly placed into absolutely any background or replicated magazine or book cover. The possibilities are endless!